Direct Bank Deposit
You can make your payment by a direct bank deposit.

Please deposit the total value of your order to any branch of Hatton National Bank (HNB).

Name of Acc: Makeen Books (Pvt) Ltd
Acc No: 092010082404

"After the Deposit to any branch of HNB, please send us a confirmation e-mail to info@makeenbooks.com and fax a copy of your deposit slip along with your order number to 0112 302940 for us to proceed with your order." See our Terms & Conditions for more information.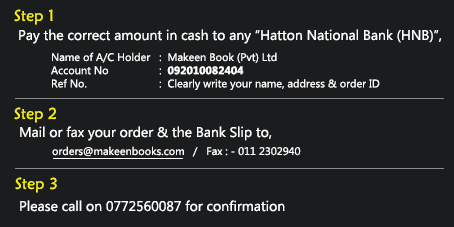 SPECIMEN OF DEPOSIT SLIP



Please note, that your order will not be despatched until we receive the confirmation of your payment.