Alison Hubble
Ahlberg Allan
9780141359236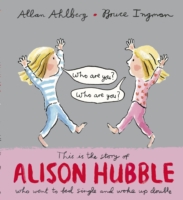 Rating:
Special Order Book

Out of stock. This book can be special ordered.
Special ordered books have a longer delivery date. Call our hotline 011 7 463 463
Additional Information
Author(s) :- Ahlberg Allan
Format :- Hardback
Publisher :- Penguin Books Ltd
Pub. Date :- 2016-05-05
ISBN-13 :- 9780141359236
Availability :- Temporarily Out of Stock
Pagination :- 32 pages
Dimensions :- 275 x 250
Add to wishlist
Description
Alison Hubble is shocked when she wakes up to find a twin in the bed next to her. And she keeps doubling... and doubling... and doubling!