Charlie and Lola: You Won't Like This Present as Much as I Do - Read it Yourself with Ladybird
Lauren Child
9780723273936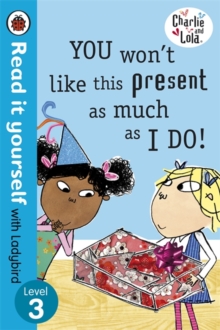 Rating:
Special Order Book

Out of stock. This book can be special ordered.
Special ordered books have a longer delivery date. Call our hotline 011 7 463 463
Additional Information
Author(s) :- Lauren Child
Format :- Paperback
Publisher :- Penguin Books Ltd
Pub. Date :- 2013-07-04
ISBN-13 :- 9780723273936
Series:- Read it Yourself
Availability :- Re Printing
Dimensions :- 153 x 228 x 3
Weight :- 126
Add to wishlist
Description
Charlie's little sister Lola wants to buy a good present for her friend Lotta's birthday. But when Lola sees something she really wants for herself, will Lotta's present be forgotten?