Rainbow Magic - 101 Things To Make And Do
Daisy Meadows
9781408337905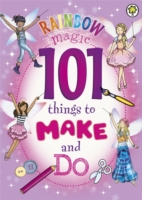 Rating:
Special Order Book

Out of stock. This book can be special ordered.
Special ordered books have a longer delivery date. Call our hotline 011 7 463 463
Additional Information
Author(s) :- Daisy Meadows
Format :- Paperback
Publisher :- Hachette Children's Group
Pub. Date :- 2015-10-01
ISBN-13 :- 9781408337905
Series:- Rainbow Magic
Availability :- Re Printing
Pagination :- 208 pages
Dimensions :- 212 x 152 x 17
Weight :- 424
Add to wishlist
Description
This beautiful book is jam-packed with magical ideas and projects for you to make and share with your friends. Join the Rainbow Magic fairies for hours of sparkling creative fun!