Rainbow Magic 149 - School Days Fairies - Marissa The Science Fairy
Daisy Meadows
9781408333914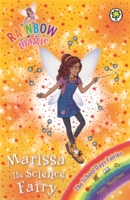 Rating:
Special Order Book

Out of stock. This book can be special ordered.
Special ordered books have a longer delivery date. Call our hotline 011 7 463 463
Additional Information
Author(s) :- Daisy Meadows
Format :- Paperback
Publisher :- Hachette Children's Books
Pub. Date :- 2014-10-02
ISBN-13 :- 9781408333914
Series:- Rainbow Magic
Availability :- Supplier Extended Catelogue
Dimensions :- 197 x 131 x 6
Weight :- 84
Add to wishlist
Description
Rachel and Kirsty can't wait to go to school together for a week! But trouble starts when Jack Frost steals Marissa the Science Fairy's magical star badge. Can the girls get it back before everyone's science experiments go horribly wrong?