Saving Faith
David Baldacci
9781447207528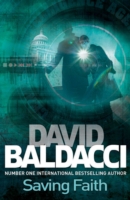 Rating:
Special Order Book

Out of stock. This book can be special ordered.
Special ordered books have a longer delivery date. Call our hotline 011 7 463 463
Additional Information
Author(s) :- David Baldacci
Format :- Paperback
Publisher :- Pan Macmillan
Pub. Date :- 2011-11-04
ISBN-13 :- 9781447207528
Edition:- Reprints
Dimensions :- 135 x 198 x 30
Weight :- 384
Add to wishlist
Description
David Baldacci's high-impact novel tells of an embattled group of men and women fighting the forces of lethal corruption that operate at the heart of the Secret State.