Forbidden Places
Penny Vincenzi
9780755332649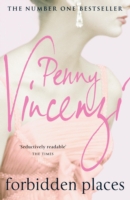 Rating:
Special Order Book

Out of stock. This book can be special ordered.
Special ordered books have a longer delivery date. Call our hotline 011 7 463 463
Additional Information
Author(s) :- Penny Vincenzi
Format :- Paperback
Publisher :- Headline Publishing Group
Pub. Date :- 2006-11-06
ISBN-13 :- 9780755332649
Availability :- Re Printing
Dimensions :- 198 x 129 x 41
Weight :- 444
Add to wishlist
Description
The lives of three friends are ripped apart by World War Two in this riveting novel from Sunday Times Number One bestseller Penny Vincenzi.