Credit Card Payment
How do I pay using a credit card?

We accept payments made by credit/debit cards having the Master card or VISA card symbol.

To pay using your credit card at checkout, you will need your card number, expiry date and three-digit security number (found on the backside of your card). When you come to the payment page you will be redirected to the Hatton National Bank secured payment gateway to complete your payment.

Is it safe to use my credit card on makeenbooks.com?

Your online transaction on makeenbooks.com is secure with the highest levels of transaction security currently available on the Internet. All credit card payments on makeenbooks.com are processed through secure and trusted payment gateways managed by Hatton National Bank.

Banks now use the 3D Secure password service for online transactions, providing an additional layer of security through identity verification.

What is a 3D Secure password?

The 3D Secure password is implemented by VISA and MasterCard in partnership with card issuing banks under the "Verified by VISA" and "Mastercard SecureCode" services, respectively. The 3D Secure password adds an additional layer of security through identity verification for your online credit card transactions. This password, which is created by you, is known only to you. This ensures that only you can use your card for online purchases.
Direct Bank Deposit
You can make your payment by a direct bank deposit.

Please deposit the total value of your order to any branch of Hatton National Bank (HNB).

Name of Acc: Makeen Books (Pvt) Ltd
Acc No: 092010082404
Acc branch: Thimbirigasyaya

"After the Deposit to any branch of HNB, please send us a confirmation e-mail to info@makeenbooks.com and fax a copy of your deposit slip along with your order number to 0112 302940 for us to proceed with your order." See our Terms & Conditions for more information.




SPECIMEN OF DEPOSIT SLIP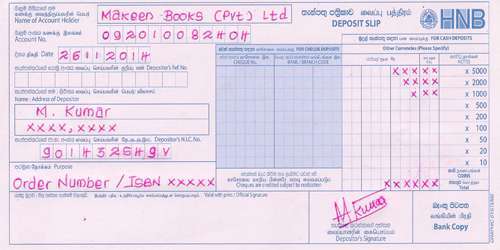 Please note, that your order will not be despatched until we receive the confirmation of your payment.
Payments Made By Bank Draft OR Cheque
You can make payment by Bank Draft or Cheque in favour of "Makeen Books Pvt. Ltd. " and crossed account payee only and send it to us at the address given below:
441, Galle Road,
Colombo 03,
Sri Lanka
And also send email to orders@makeenbooks.com

Advising about your payment so that we can process your order as soon as we receive your cheque and bank it, orders will be processed only after clearance of the cheque.

Enclose a covering letter with the name and author of the book, your Shipping Address, Phone Number and Email Address.