He's Got to Go
Sheila O'Flanagan
9780755329939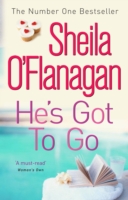 Rating:
Special Order Book

Out of stock. This book can be special ordered.
Special ordered books have a longer delivery date. Call our hotline 011 7 463 463
Additional Information
Author(s) :- Sheila O'Flanagan
Format :- Paperback
Publisher :- Headline Publishing Group
Pub. Date :- 2006-03-06
ISBN-13 :- 9780755329939
Other ISBNs :- 01900680
Availability :- Supplier Extended Catelogue
Dimensions :- 196 x 130 x 38
Weight :- 410
Add to wishlist
Description
What do you do when the man in your life lets you down? Can Nessa Riley ignore what her husband seems to be up to or has he really got to go?