Dark Paths
Heitz Markus
9781782065944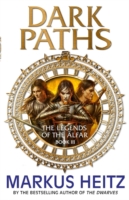 Rating:
Special Order Book

Out of stock. This book can be special ordered.
Special ordered books have a longer delivery date. Call our hotline 011 7 463 463
Additional Information
Author(s) :- Heitz Markus
Format :- Paperback
Publisher :- Quercus Publishing
Pub. Date :- 2016-08-04
ISBN-13 :- 9781782065944
Series:- The Legends of the AElfar
Availability :- Temporarily Out of Stock
Pagination :- 608 pages
Dimensions :- 198 x 126
Add to wishlist
Description
The Alfar wait in a forgotten empire before they can return to their poisoned home city. But a decisive battle is approaching ...