New Baby
Jean Adamson
9781409300564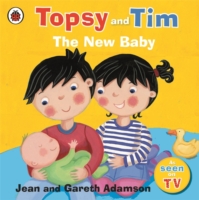 Rating:
Special Order Book

Out of stock. This book can be special ordered.
Special ordered books have a longer delivery date. Call our hotline 011 7 463 463
Additional Information
Author(s) :- Jean Adamson
Format :- Paperback
Publisher :- Penguin Books Ltd
Pub. Date :- 2009-04-02
ISBN-13 :- 9781409300564
Series:- Topsy and Tim
Dimensions :- 103 x 196 x 3
Weight :- 106
Add to wishlist
Description
Topsy and Tim the twins' friend Tony has a new baby brother called Jack. At first Tony is a bit jealous of the new baby but he soon learns how to be a helpful big brother.