Polar Bear, Polar Bear, What Do You Hear?
EricMartin Carle
9780141383514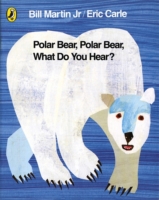 Rating:
Special Order Book

Out of stock. This book can be special ordered.
Special ordered books have a longer delivery date. Call our hotline 011 7 463 463
Additional Information
Author(s) :- EricMartin Carle
Format :-
Publisher :- Penguin Books Ltd
Pub. Date :- 2007-06-28
ISBN-13 :- 9780141383514
Dimensions :- 176 x 128 x 16
Weight :- 250
Add to wishlist
Description
Introduced by a rhythmic text, this book takes the readers to a menagerie of wild animals from a roaring lion to a fluting flamingo and a trumpeting elephant. It presents a story combining animals, colours and sounds.