Song of Ice and Fire - A Game of Thrones: The Story Continues [Export only]
George R. R. Martin
9780007477166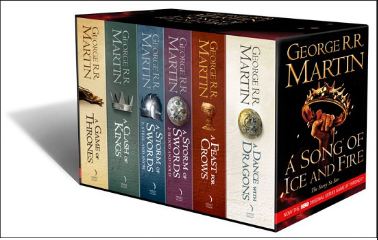 Rating:
Special Order Book

Out of stock. This book can be special ordered.
Special ordered books have a longer delivery date. Call our hotline 011 7 463 463
Additional Information
Author(s) :- George R. R. Martin
Format :- Paperback
Publisher :- HarperCollins Publishers
Pub. Date :- 2012-05-01
ISBN-13 :- 9780007477166
Series:- A Song of Ice and Fire
Availability :- Temporarily Out of Stock
Dimensions :- 308 x 183 x 115
Weight :- 2952
Add to wishlist
Description
The complete box set of George R R Martin's internationally bestselling series A SONG OF ICE AND FIRE, the greatest fantasy epic of the modern age.