Each Peach Pear Plum
JanetAhlberg Ahlberg
9780670882786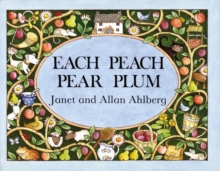 Rating:
Special Order Book

Out of stock. This book can be special ordered.
Special ordered books have a longer delivery date. Call our hotline 011 7 463 463
Additional Information
Author(s) :- JanetAhlberg Ahlberg
Format :-
Publisher :- Penguin Books Ltd
Pub. Date :- 1999-05-27
ISBN-13 :- 9780670882786
Availability :- Temporarily Out of Stock
Dimensions :- 154 x 200 x 16
Weight :- 304
Add to wishlist
Description
A picture book from the creators of Peepo. It encourages young children to interact with the picture to find the next fairy tale and nursery rhyme character. It suitable for little hands.