GS THEA STILTON - 13 - AND THE MYSTERY ON THE ORIENT EXPRESS
Geronimo Stilton
9780545341059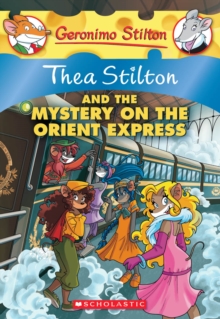 Rating:
Special Order Book

Out of stock. This book can be special ordered.
Special ordered books have a longer delivery date. Call our hotline 011 7 463 463
Additional Information
Author(s) :- Geronimo Stilton
Format :- Paperback
Publisher :- SCHOLASTIC
Pub. Date :- 2012-12-01
ISBN-13 :- 9780545341059
Add to wishlist
Description
The Thea Sisters are boarding the famouse Orient Express for a journey from Paris to Istanbul! The train is on a special trip to return a precious wedding dress stolen years ago from an Istanbul museum.