Rainbow Magic 144 - Magical Crafts Fairies - Josie The Jewellery-Making
Daisy Meadows
9781408331477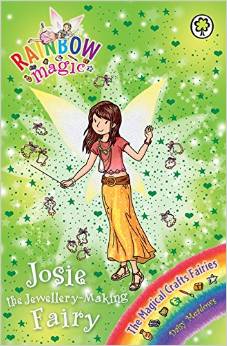 Rating:
Special Order Book

Out of stock. This book can be special ordered.
Special ordered books have a longer delivery date. Call our hotline 011 7 463 463
Additional Information
Author(s) :- Daisy Meadows
Format :- Paperback
Publisher :- Hachette Children's Books
Pub. Date :- 2014-04-03
ISBN-13 :- 9781408331477
Series:- Rainbow Magic
Availability :- Not Yet Published
Dimensions :- 198 x 131 x 6
Weight :- 84
Add to wishlist
Description
Josie the Jewellery-Making Fairy's magical beads have been stolen by Jack Frost's silly goblins... and they don't want to give them back! Can Kirsty and Rachel outwit the Ice Lord to make all jewellery look fabulous again?